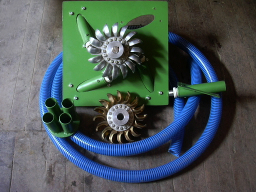 For over seven years Joseph Hartvigsen of Hartvigsen Hydro (Utah,USA) and Peter Ruyter of Cargo and Kraft (Sweden) have used the Internet to successfully prevent the alternative energy community around the world from using the turgo water turbine design, and continue to do so. (See recent archives, microhydropower.net) This was accomplished by posting very strongly worded claims to ownership of the turgo design on the world's biggest micro hydro discussion site, microhydropower.net.
http://watermotorstory.blogspot.com/2010/08/hartvigsens-post-to-group-dec12-05-and.html 
Hartvigsen and Ruyter started making these claims when they began producing and selling this type of turbine them selves. Their company is now the largest producer of this particular design. The prevention of the public from using this design has been a great loss to the world wide alternative energy community. This turgo design is generally the best all around type of turbine wheel for small scale water power uses. It is very easy to build in small local workshops, or in schools. Uniquely, this design has the potential to revive the use of small scale water power. Small scale water power remains a valuable and nearly untouched resource in many parts of the world.
Over the years Hartvigsen and Ruyter stated a number of times that they would be able to provide definite and clear proof of their design ownership to any competent patent attorney "in minutes". On Dec. 24,09, Joseph Hartvigsen met with patent attorney Brian Kunzler in Salt Lake City in order to present proof of ownership claims made by himself and supporters on the Internet regarding the turgo design. According to Kunzler Hartvigsen was unable to provide any proof whatsoever that his years of claims to the public were other than completely fraudulent.
Very recently (May 2013) the issue of ownership of this design has again been raised on the microhydropower.net water power discussion site. There has been a renewed request to Hartvigsen and Ruyter to present proof of their turgo design ownership claims to the public, which they are still unable to do, or to stop preventing others from using it. They have refused to reply.
In light of an ongoing seven years of apparently fraudulent turgo design ownership claims and various threats of legal action against anyone in the world who would use this design without their consent, the world wide alternative energy community should consider taking some type action against Hartvigsen and Ruyter to prevent them continuing to make these claims to the public and continuing to profit from these claims. At the least the same amount of publicity should be given to the fact that the ownership claims of Hartvigsen and Ruyter were completely false.
This is a matter of concern for the entire alternative energy community. While pretending to be contributing to the use of natural energy Hartvigsen and Ruyter have actually done a great deal with their false design ownership claims to prevent people around the world from using a great source of natural energy, small scale water power.
The exact method which Hartvigsen and Ruyter used to use their fraudulent claims is called "copyfraud". Copyfraud takes advantage of the relative looseness of copright laws to take over designs in public domain. False ownership claims are made to the public, then can be dropped with little legal consequence if the fraud become untenable. Of course, as any attorney will confirm, the very claim that copyright protection applies to an internal working machine part such as a turbine wheel is in itself fraudulent.
Ron Davis
Watermotor@yahoo.com
Watermotor.net
Watermotor on Facebook
Watermotorstory.blogspot.com
Watermotorturbine on Youtube